Testimonials
A D Calvert Architectural Stone Supplies say:

"IT Accessed have helped our company to reduce time on repetitive manual data entry, enhance communication, reduce input errors and improve customer response rates. The system mirror-images the way we work but adds time efficiency and computerised customer management. It allows us to manage a customer from start to finish.

We consulted with IT Accessed to discuss and establish our company vision. IT Accessed have worked alongside us and have listened to our requirements during all phases included planning, development, implementation and training.

It has not been without its challenges -as with all changes - but we can honestly say we are delighted with the end result which is a system that has been carefully tailored to our company and is effective. Since implementation we have developed the system further with the ongoing support and development by IT Accessed who understand our vision and future company development needs."
Calverts approached IT Accessed, and together a plan was produced outlining the areas to be considered with the priority being the complete order fulfilment process. The design and implementation of the system was completed and indeed is still ongoing as the system is refined and expanded alongside the business.


"As our business is growing rapidly we required a resource that could take on our existing Microsoft Access database and develop it with the business as well as help us increase its efficiency. IT Accessed have proved themselves to have the skill and experience to meet our needs fully, but importantly have also been totally professional and reliable – all of which is vital when working with a system on which our business depends. I would recommend their services to any business needing to create or develop software with a view to business growth."
Martin Anderson – MD, Lemon Business Solutions.
Lemon is a 24/7 call centre located in the North East of England offering bespoke call answering solutions to clients throughout the UK and internationally. Lemon's range of services far exceed the average call centre as they also specialise in offering a range of contact centre services too, including Web, Email and SMS Enquiry Management.
"We became aware that we needed to have a full review of our IT infrastructure and systems, and we engaged IT Accessed to manage the review process, help us improve our systems, including our e-commerce platform, and select an IT support supplier.

They looked at our systems and thoroughly investigated the existing processes, costs and performance – they then laid out a series of options to proceed with and helped us select the best one for us. They also arranged for us to meet IT network support companies and again helped with the selection of the one that best suited our needs.

IT Accessed not only managed the project diligently and fairly, they helped reduce long-term costs, increasing our efficiency and security and consistently explained the pros and cons of each course of action. Additionally they assisted us in interpreting the technical language of IT solution providers into plain English so we understood what we were purchasing.

IT Accessed took the time to understand our business requirements, and offered impartial advice and solutions to suit our needs. We would highly recommend their services.
Catherine Blackshaw - Head of Finance, Cartridge World Franchise Support.
"IT Accessed Ltd have worked with Castle Hill Books for nine years; using their software design skills they have produced an order management system for us and have completed a major refresh of our coast-to-coast walking guides service. They have also assisted us with our in-house systems and have always been available to advise us on technical issues. "IT Accessed's approach is professional, reliable and always helpful. I would not hesitate to recommend them."
Wendy Patch - Manager
"SAICA employed IT Accessed to help create a Marketing Database and assist in the reporting of Marketing Data. Their impressive business-oriented approach, experience of industry and systems knowledge proved invaluable and we would not hesitate to recommend their services."
A Woollard, Managing Director (South), Saica Pack UK Ltd.
SAICA Pack are one of the leading manufacturers of corrugated board, transit and retail display packaging, operating across Europe and with 18 plants in the UK & Ireland alone. They are at the forefront of innovation and lean operations in their field.
"I recommend Allyson to anyone who wishes to work or share information with a committed and knowledgeable professional in the field of business and IT solutions. Allyson has a wide experience in business and IT. Most importantly, she uses her experience to link the two and get the best out of both. Allyson is not afraid to "roll-up her sleeves" and work opportunities or resolve difficulties through to completion and success."
Colin McGeary - Littelfuse Inc, Circuit Protection Manufacturer and Distributor
"We were very impressed with 'IT Accessed' communication skills across our departments ensuring the requirements for the system were thoroughly investigated and accurately transferred into a functional design. We were also impressed with their willingness to go the extra mile to make the project a success".
NIS Business Delivery Director, Ken Colquhoun.
Lancashire based NIS are a specialist integrated engineering company, providing bespoke design and manufacture of plant and equipment by the transfer of technology across a broad and diverse range of markets – including the Nuclear, Aerospace, Medical, Food and other industries. The multi-million turnover company is characterised by the high level of engineering skill of its staff, and the specialised bespoke nature of its projects. Each project can consist of hundreds or thousands of component parts which require very precise control and management of a number of processes.
"IT Accessed have an unerring knack of being able to identify a business issue and match it with an appropriate IT solution. A true rarity in these days of specialisms. They understand both business and IT and bring skill practicality and common sense to both."
Chris Stott, Milestone Management Ltd.
"IT Accessed listened to what we wanted and understood our business – they were able to develop an impressively effective and easy-to-use system that helps us run our offices in a more efficient and economic way, and I would thoroughly recommend them."
Managing Director, Chris Barber, Access Loft Conversions.
As an ambitious and growing loft conversion business, Teesside and South East England based Access Loft Conversions required a Business Control System to streamline and co-ordinate their office operations. Access Loft Conversions have been specializing in Truss, Velux and Dormer loft conversions for over 15 years and have built a reputation as a trustworthy family-run business producing quality work. They have completed hundreds of loft conversions nationwide, producing an impressive portfolio of satisfied customers along the way.
"IT Accessed proved invaluable to us in helping to specify the design of the system, mentoring the project, introducing a reliable software supplier, anticipating problems, co-ordinating the group and generally ensuring things went as smoothly as possible. Their business and technical awareness was excellent, their commitment to the project was absolute and I would highly recommend them."
Ian Mellish, Business Development Manager, GTEC Ltd.
IT Accessed worked with this training company based in North Yorkshire, delivering high quality training and assessment to the electrical and other industries. They required advice and assistance in developing a new examination for a client which would also enable the marking process to be speeded up and allow more feedback to be given on candidates. The exam would consist of a practical section to be completed using new digital paper technology – transferring written marks electronically, and an online section. The project needed to be completed within a short time in order to meet a given deadline for the new examinations to begin. GTEC chose IT Accessed to help them design the system, find the best company to write the bespoke software, and co-ordinate the parties involved through the process of developing and testing the system.
"My experience of IT Accessed Ltd has been excellent. My needs were clearly assessed and a programme put in place that has quickly borne effective results. I would not hesitate in recommending this company."
David Doorbar - Drystone Ltd.
"Totally professional - can't fault them in anyway - and will definitely use again for a further project."
Cliff West - Castle VAT Bureau, Launceston, Cornwall.
"Allyson & Craig at IT Accessed provided my company with a professional service at a reasonable cost, having developed with concise detail a software system, for the field service support function of my business."
John Broderick - Print Demon Systems Ltd
"IT Accessed have produced marketing databases for us that are easy to use and maintain - they are now the basis of our strategic marketing effort. Their products are visually pleasing and they were able to turn a non-technical brief into a finished product quickly."
Ben Blydenstein - SCA Packaging.
At the the time, Europe's Largest Corrugated Packaging Producer: The bespoke marketing software created for the North East region "became the basis of our strategic marketing effort"
IT Accessed has supplied several systems to SCA and advised on others.
"IT Accessed delivered a well-designed system on time and on budget. We are extremely pleased with the results."
Philip Wicks - Yorkshire Books Ltd.
"We needed to get the most from e-marketing in promoting our different businesses. We wanted to make sure we had the best possible procedures in place – taking into account current best practice and the unique characteristics of our business portfolio. IT Accessed listened to us and were able to understand the characteristics of, and our aims for, each part of the business. They then matched these with the available features in our existing software packages to develop the system that would deliver our marketing strategy most effectively.
I would highly recommend IT Accessed's services."
Ann Kiely, Owner, The Falls.
The Falls is a major leisure company based at Aysgarth in the Yorkshire Dales, covering catering, accommodation, farm products and nature reserves.
"IT Accessed looked at our issues from a business point of view and were able to recommend and implement a simple and effective solution that saved us a lot of time and money. I wouldn't hesitate to recommend to anyone to call Allyson and see if IT Accessed can help them."
Ray Longstaff - Rodbers of Richmond Ltd.
"I have found Allyson to be both reliable and efficient as well as a good communicator. She has an in-depth understanding of overall business needs and is able to match this appropriately to specific technical requirements."
Lorraine Davidson - Freelance Marketing Ltd:
A selection of feedback from workshops: -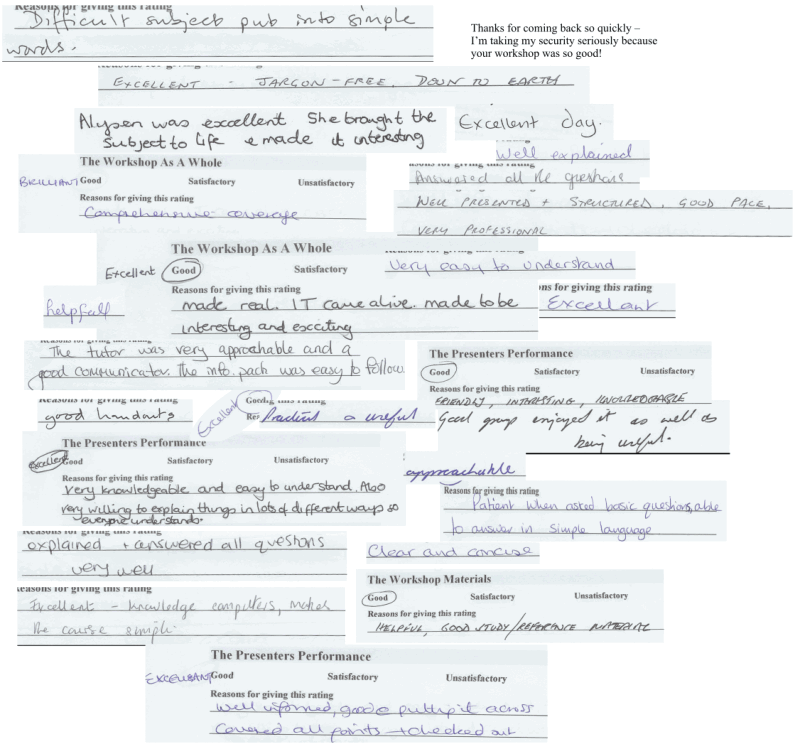 | Call Us: 01748 825426 |
Connect with us

in
Website by IT Accessed | ©2021 IT Accessed Ltd